Our dogs are a very important part of our lives, and many of us like to bring them with us on vacation. Door County is the perfect vacation destination for dogs, with plentiful outdoor activities and tons of dog-friendly establishments. Learn More Below
Beachfront Inn loves dogs, and our entire first floor is dog-friendly. Well-behaved dogs are free to play off-leash and enjoy the water on our beautiful sand beach, but for the safety of dogs and guests alike, we ask that all dogs be leashed in all other areas of the Beachfront Inn property.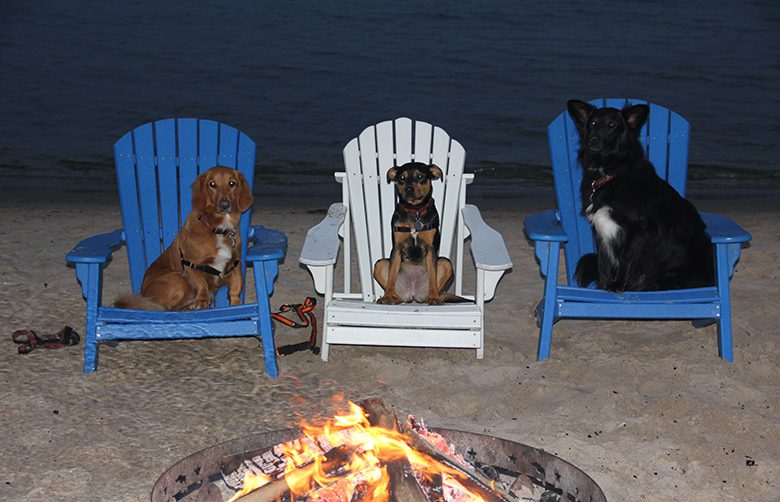 Just a Few Ground Rules for Dogs and their People
Download and complete our DOG WAIVER, or fill one out at check-in.
Dogs are not allowed in the pool area or non-dog rooms.
Dogs must be kept on leash at all times while in public areas. However, dogs are allowed to run free on the beach and water as long as they do not disturb other guests.
Noise/disruption and complaints – If hotel management receives more than 2 complaints, alternative arrangements must be made for your dog.
You must 'pick up' after your dog on all areas of the property, including the sand beach. Doggie bags are provided to you and are also located around the property.
Guest will be held responsible for any and all damage caused by, or liability arising from, his/her dog to any person or hotel property. Guestrooms will be inspected at check-out.

There is a charge of $20 per dog per night.
Door County ❤️s Dogs!
Here's a list of just some of the dog-friendly activities Door County offers
Harbor Fish Market & Grill, Baileys Harbor
Dog friendly outside patio on the Lake Michigan side features a special menu for their canine customers
Cornerstone Pub, Baileys Harbor
Outside dog friendly seating area
AC Tap, Baileys Harbor
A classic Wisconsin tavern and local favorite features a covered dog friendly porch for dining rain or shine. North of Baileys Harbor on Hwy 57.
Mink River Basin, Ellison Bay
Dog friendly outside patio
Husby's Garage Bar, Sister Bay
Open air, outside Garage Bar features live music Thurs – Sat, every week
Sister Bay Bowl, Alley Bar
Pet friendly outside bar. Lunch and limited dinner menu
Door County Kennels, Inc
Day kennel option while planning other activities. 920-868-3804. 4860 Court Rd, Egg Harbor, WI.Additional resources for pet friendly establishments in Door County:  Pet Friendly Door County
Door County Land Trust
Dogs are welcome on all trails with a leash. Door County Land Trust
Peninsula State Park, Fish Creek
Dogs are welcome on most trails but not permitted in picnic areas or beaches.
Newport State Park, Ellison Bay
Dogs are welcome on most trails but not permitted in picnic areas or beaches but this park does have an area of sandy shoreline that allows dogs.
White Fish Dunes State Park, Sturgeon Bay
This is the most pet friendly State park in Door County allowing dogs on areas of the beach.
Captain Baileys Dog Park, Baileys Harbor
Completed in the spring of 2016. Located on Summit Road.
Sister Bay Dog Park
Adjacent to the sports complex on Autumn Court this is a 200′x300′ fenced dog park with picnic tables.
Harbor Hounds Dog Park, Egg Harbor
Located in Village View Park, one block east of Highway 42 at the corner of Church Street & Harbor School Road. There is both a large dog and small dog area, 2 acres total of fenced play area.
All county owned parks in Door County allow dogs on leash.